The SDC world party takes place once or twice a year. It is a great party with many beautiful swinger couples who have an open mind about eroticism, swinging and wife swapping. Therefore, it will probably not surprise you, there are always many swingers from all over the world present at those parties. Because this swinger party often takes place in the Netherlands, there are relatively many European couples and those European swingers couples are always in for a good party. The party was originally a collaboration between SDC and Crazyland, but nowadays Kinky on the Beach, Toxic and Secret underground are also involved in hosting the best swinger party in the world.
Central studio's Utrecht The Netherlands location details
The location where the SDC world party takes place often is in the Central Studios in Utrecht and can be found at Gietijzerstraat 3/5, Utrecht, The Netherlands (Holland) zip code 3534 AV. This is a perfect location in the middle of the country. The central studios are easily accessible. From the exit of highway A2 you will arrive within 5 minutes. Parking is free and there is more than enough parking space available for you.

In case you come by train, you are in the right place as well. It is only a 5-minute walk from the "Utrecht-Zuilen" railway station and if you don't feel like walking, you can take bus line number 5. Sometimes there is also a shuttle service. In short, accessibility can't be a reason for not visiting this superb swingers party.
Glitter and Glamour
The party is all about glitter and glamour. Watch and be watched. Everyone is dressed beautifully or chic. You can expect lots of beautiful couples, a good light show, a good sound show, fireworks, top performances and kinky acts. Immediately upon entering, everyone receives a delicious welcome drink, so you can get in the mood even faster. You certainly will enjoy the party and the dance music of the top deejays.
Dress code and party clothes
The party clothes worn by the party people differs from chic evening wear to more casual nightwear. In any case you should be well-groomed and well-dressed, that also applies to the footwear. So stylish clothing and shoes. Watch one of the party videos below on this page. This way you'll get a good impression of the dress code and party clothing that is worn during the SDC world party.
Next SDC World Party 2021
Due to the uncertainty about the Corona pandemic, no hard date is currently set for the next world party. The last party that should have taken place in November 2020 (early x-mas edition) was cancelled due to the increasing Covid infections. As soon as the circumstances allow it and there is a clear picture of what is and what is not allowed, the next party of 2021 will be immediately scheduled. We will keep you informed through this site. If you want to be kept actively informed of when the next swingers party is, you can sign up now for our newsletter, so you won't miss anything.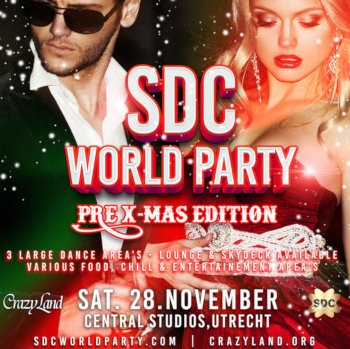 SDC World Party tickets
You can order tickets for this swingers dance party via the ticket shop on the official page of the sdcworld party. See the bottom of the page for the correct links. You can also order your tickets via Paylogic.
Pictures
Because most of the photos from the SDC World party are copyrighted, we have not included any images on this site. We do share a number of videos of the world party though, so you will be able to get a very good impression of the atmosphere, the dress code and the visitors. If you are also interested in a photo impression, we advise to have a look at the official website, Facebook and Instagram. An overview of all relevant links can be found at the bottom of this page.
SDC World Party video's
Below you will find a number of videos from the SDC world party. Have fun watching the after movie, from 2018 and 2019. The party scheduled for November 2020 was cancelled due to Corona.
Relevant links
Official website SDC.com
Official website world party
Order tickets
Facebook page
Review and experiences
Have you ever been to the SDC World party? Let us know your experiences. How did you like it, did you meet nice people or did you think it was too soft for a swingers party. Write your review below.