SDC membership fees for swingers and singles
The average monthly prices for a membership depend on the period that you want to become a member.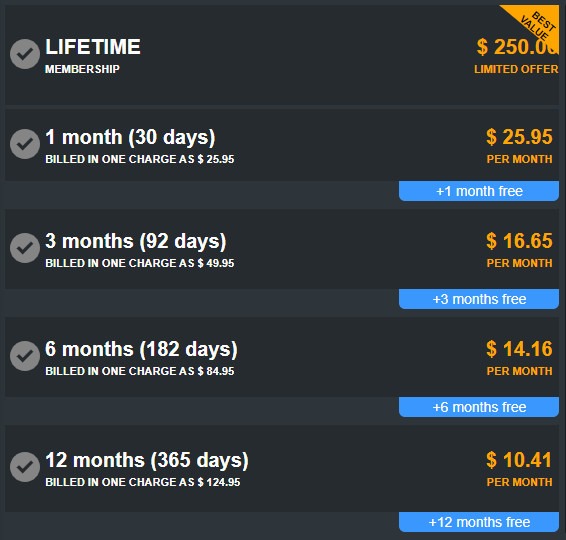 $ 10.41 per month for an annual membership. (You pay a price of 124.95)
$ 14.16 per month for a six-month membership. (You pay a price of 84.95)
$ 16.65 per month for a quarterly membership. (You pay a price of 49.95)
$ 25.95 per month for a monthly membership. (You pay a price of 25.95)
SDC cost lifetime membership swinger dating
If you register via our website sdcswinger.net you will receive the best offer ever in your mailbox after more than a year. For 250 dollars you can receive the lifetime membership. Lifetime member means that you can remain a member for life, without ever having to pay another dollar. There are no strings attached. You won't have to pay extra later to be able to use the site in full. You don't have to be afraid that it won't be really free for the rest of your life. We are already using this free lifetime membership for twenty years now.
Sometimes they also give you the opportunity to get a lifetime membership at once, so you don't have to wait a year for this offer. In that case the cost for a lifetime membership is $ 250. A very good price because you don't have to pay ever again for swinger dating.
Is this a fair price?
Yes even normal dating sites are often more expensive. The costs for a SDC membership are relatively low. Especially if you take into consideration what you get in return and compare this with other sex dating sites. On a lot of other swinger dating sites you will find many fakers without a lot of real swingers. On SDC however, you will find so many real members who actually want to date with you for sex, that you will be facing a luxury problem. You will have to choose from so many different nice couples. There are too many couples to date.
Trial member
If you are not completely convinced by now of the benefits of a SDC membership, you can also take a free trial membership first. The SDC free trial membership works good. Yet we are a little cautious to promote it, because of the "danger" that as a free trial member you won't fully experience the potential of the site.
With the SDC free trial you can do anything or almost anything what a premium member can do, but not all paying members take trial members too seriously. We ourselves, for example, have completely blocked trial members from our profile. That way they can't contact us and they can't see our pictures. Certainly not all members block rial members, but we do and we are not the only ones.

In short, a free trial membership is very useful to have a look at the site, but not to experience how easy you can make sex dates via SDC. Nevertheless, you have a lot of functions at your disposal as trial member, including unlimited sending and receiving messages, but messages of trial members can be ignored by premium members. If you are really serious about swinging then sign up for a real account for at least a month, so you can fully experience the potential this website has to offer. We can guarantee you won't be disappointed.
Make sure you sign up with our promo code, otherwise you will miss the discount that follows later with your lifetime offer. The trial period can also be shorter if you do not use our discount code.
What is the best strategy to keep the SDC costs low?
We recommend that everyone first take a subscription for a month or three months. This way you quickly discover whether the site is something for you. Actually, this is unnecessary, because the site works more than excellent for everyone, unless you don't like a lot of sex with other couples or singles and you prefer to have one steady partner for the rest of your life.
The few people that don't like SDC are the aforementioned people who only want a steady partner and the swingers or singles who don't bother to make something of their profile.
Any SDC member who uploads a few nice pictures, and spend a few minutes of work in the online profile will soon discover this is the best website there is, for finding swinger dating and sex dating. Especially if you take some initiative and start messaging to some online members you like, you will have so many sex dates, you can't imagine.
If you notice after that one month or three months that the site is right for you (and we almost dare to guarantee that will be the case), our advice is to take an annual subscription* after that. And by the time the annual subscription has ended, you will receive that lifetime free membership offer.
* or even better a lifetime membership if that offer is already available.
That 250 dollars for a lifetime membership may be a slightly higher amount in one charge, but if you ask nicely, you can usually pay it in two different installments. Moreover, if you calculate it, it is really a great bargain.
Count with us
We know couples who have been lifetime members for almost 25 years. If you calculate what they paid for their membership it is really astonishing. They only paid 10 dollars a year. In other words, about 80 cents per month. What are we talking about? A minute of live sex at most sites is already more expensive. Many couples have scored hundreds of dates. That is converted on average less than a euro to be able to have exciting sex with strangers We see it this way: we have spent those costs once a long time ago and the rest of our lives we have had free sex dates for the price of 0 euros and we still have for many years to come.
In our opinion, there are few deals in life that work out as beneficial as a membership with SDC. The costs do not outweigh the amount of fun that comes with it.
Conclusion
If you like real sex dating with real couples, real single ladies and gentlemen and calculate how amazing cheap it is to be able to use SDC (especially with an annual subscription or lifetime membership), then nobody will have to think long to become a member. It's a great low price for a fantastic site. The costs are really negligible for all the fun you will receive in return.